Published in APRIL 2003 Metro:Magazine, Bangkok, Thailand
---
Multilingual trishaw drivers, architectural reminders of Malaysia's colonial past and an abundance of cuisines: gorgeous Georgetown leaves Liza Linklater enchanted as she visits Penang's heritage capital.
"They came to Penang from all over the world, "says the banner at the Penang State Museum & Art Gallery. And it's true: Penang's blend of cultures is immediately evident in its people and its architecture – a fusion that is unique in most of Southeast Asia.
Foreigners still come to Penang from all over the world. Many come for tourism, while farangs (Thai for foreigners) often come on visa runs from across the border to the Thai consulate in Penang. No matter what the reason, visitors are often pleasantly surprised by what they find in the beauty and uniqueness of this place.
George Town, Penang's capital, is without doubt one of the most charismatic cities in Southeast Asia. What entices visitors is the diversity of the people, the ochre-coloured colonial buildings, the remarkable 12,000 pre-World War II, Straits Chinese shop-houses and the diverse ethnic communities they shelter. These buildings, with their pastel-coloured shutters and doors, bright red Chinese characters embellishing the supporting columns, ornate tiled walls, and red-tiled roofs, are not only a photographer's dream.
George Town, Malaysia's second largest city lies on large Penang (Betel Nut) Island. Confusingly, the name Penang is often used for the city, the island and the state simultaneously. A channel separates the island and mainland, but the third-longest bridge in the world and a continuous ferry service from Butterworth link the two.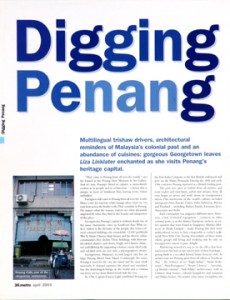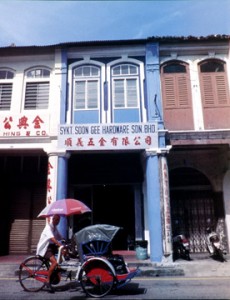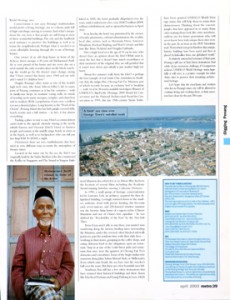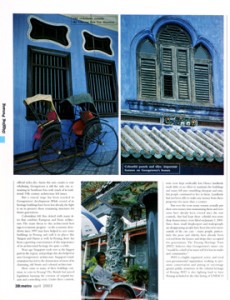 In 1786, Captain Francis Light established Penang for the East India Company as the first British settlement and port on the Malay Peninsula. During the 18th and early 19th centuries, Penang operated as a British trading post.
The port was open to settlers from all nations, and soon traders and merchants, sailors and artisans from all over began to arrive and settle down in George Town's streets. This microcosm of the world's cultures included immigrants from Europe, China, India, Indonesia, Burma and Thailand – including Malays, Tamils, Eurasians, Jews, Armenians, and Arabs.
Each community was assigned a different street. However, a lack of formal segregation – common in other colonial ports, as in the distinct European enclaves or native quarters that were found in Singapore, Maleka (Malacca) or Kuala Lumpur – made Penang the first truly multicultural society in Asia, comparable to today's multi-racial New York City. Seeing descendants of these many ethnic groups still living and working side by side on George Town's streets is pure delight.
Wandering around, it's easy to see the effect that these interactions has had on the mixed style of their buildings – giving birth to a so-called hybrid Straits Eclectic style. Its architecture sets Penang apart from all others in Southeast Asia – the richness of its "Anglo-Indian", "Straits Settlement", "Sino-Portuguese", "Straits Chinese", "neoclassical British colonial", "Indo-Malay" architectures, with its Chinese shop houses, Anglo-Indian bungalows and mansions and Malay houses. No matter what name exemplifies the official styles, the charm this mix exudes is overwhelming. George Town is still the only city remaining in Southeast Asia with much of its traditional 19th century architecture left intact.
But a crucial stage has been reached in George Town's development. While several of its heritage buildings have been lost already, the fight is on to preserve those remaining structures for future generations.
Colonialism left Asia dotted with many cities that combine European and Asian architecture. The main threat to this architectural heritage is economic progress – so the economic slowdown since 1997 may have helped to save some buildings in Penang and stall it in places like Yangon (Rangoon) and Hanoi as well. In Penang, there has been a growing consciousness of the importance of its architectural heritage for quite a while.
Years ago Singapore took over as the biggest port in the region, and perhaps this also helped to save George Town's architecture. Singapore's modernization has led to the destruction of most of its charming, old Straits and colonial architecture.
How come so many of these buildings continue to exist in Penang? The British had passed legislation banning the eviction of original tenants and controlling rents. Under the rent controls, rents were kept artificially low. Hence landlords made little or no effort to maintain the buildings and many fell into crumbling disrepair and ruin, but people continued to live in them. Landlords had not been able to make any money from these properties for more than a century.
But over the years many tenants actually put their own money into maintaining them and now some have already been evicted since the rent controls, that had kept these colourful two-story shop-houses intact, were lifted on January 1, 2000.
Since then, small shopkeepers and tradespeople are disappearing; some people have been forced to move outside of the city core – many people, particularly the poor and elderly, have already been evicted from the homes and shops they occupied for generations. The Penang Heritage Trust (PHT) believes that Georgetown's inner city "would be a shell of its inner self if it lost its trades and communities."
PHT is a highly organized, active, and vocal non-governmental organization working to promote conservation and aiming to encourage greater public awareness of the cultural heritage of Penang. PHT is also fighting hard to have Penang included in the elite listing of UNESCO World Heritage sites.
Conservation is not easy, Penang's heritage advocates would prefer a living, heritage city to a theme park full of high-end shops catering to tourists. And what's unique about the city now is that people are still living in most of these wonderful buildings. The city and the landlords need assistance to preserve the buildings as well as to retain the neighbourhoods. Perhaps what is needed is to create affordable housing through the re-use of heritage houses.
One owner of an old shop-house in front of the Acheen Street mosque is 85-year-old Mohammed Ariff. He is very proud of his house and sits every day on a stool outside the only wooden door on the block watching the world go by. He doesn't want change, saying that "I have owned this house since 1944 and my wife and I raised 11 children here."
Despite Penang's other status as one of the world's high tech cities (the Asian "Silicon Valley"), life in many parts of Penang continues as it has for centuries – with its family-run shops, its roadside eating stalls, its rituals of worship (at its many mosques, temples, and churches), and its markets. With a population of just over a million it is not a frenzied place. Long known as the "Pearl of the Orient", Penang Island also has lush, jungle-covered hills, beach resorts and a hill station – in fact, it has almost everything.
Finding a place to stay is easy. Hotel accommodation caters both to the upscale clientele staying at the newly rebuilt Eastern and Oriental (E&O) Hotel, to business people and tourists at the middle range hotels, in town or at the beach, as well as to backpackers who can still pay less than US$8 a night.
Downtown there are two establishments that have tried in very different ways to retain the atmosphere of former times.
Located in the inner city by the sea, the E&O was originally built by the Sarkie Brothers who also constructed Raffles in Singapore and The Strand in Yangon (Rangoon). Established in 1885, the hotel gradually dilapidated over the years, until it underwent a five-year, nearly US$20 million refurbishment, and re-opened for business in April 2001.
In its heyday, the hotel was patronized by the owners of nearby plantations, colonial administrators, the wealthy local elite, writers such as Hermann Hesse, Somerset Maugham, Rudyard Kipling, and Noel Coward, and film stars like Mary Pickford and Douglas Fairbanks.
Not a single local over the age of 35 can be met who doesn't have an opinion about the E&O. While most lamented the fact that it didn't bare much resemblance to their memories of the original, they are still gratified that it wasn't torn down and rebuilt as just another high-rise hotel.
About five minutes walk from the E&O is perhaps the best example of real Grade-One restoration in Southeast Asia, the indigo-blue Cheong Fatt Tze Mansion, part of which recently became an exclusive bed 'n' breakfast – with 16 of its 38 rooms available for lodgers. Winner of UNESCO's Asia-Pacific Heritage 2000 Award for Conservation and the National Architectural Award for Conservation in 1995, this late 19th-century Straits Settlement Mansion also referred to as La Maison Bleu, has been the location of several films including the Academy Award-winning Indochine starring Catherine Deneuve.
In 1990, a small group of heritage conservationists led by Laurence Loh, an architect, acquired the then dilapidated building. Lovingly restored down to the smallest, authentic detail with private funding, this five-courtyard, seven-staircase, and 220-louvred window mansion was the favourite Asian home of a rags-to-riches Chinese Mandarin and one of China's first capitalists – he was dubbed the "Rockefeller of the East" by the New York Times.
Even if you aren't able to stay there, you should take one of the incredibly entertaining and informative English tours of the Mansion. And you mustn't miss wandering around the narrow, bustling lanes surrounding the Mansion, under the covered, often blocked sidewalk porticoes, past the residents busy with their daily lives – working in their stores, gossiping in the coffee shops, and eating delicious food in the ubiquitous open-air restaurants. Stop in at one of the Leith Street pubs and restaurants that once were the quarters of Cheong Fatt Tze's domestics and concubines. Some of the Anglo-Indian style mansions along Jalan Sultan Ahmad Shah, or Millionaires Row, which runs beside the sea have met the wrecker's ball over the years. But there are a few beautiful ones left.
Southeast Asia still has a few other destinations that have retained their historical buildings and their charm, for example, Hoi An in Vietnam and Luang Prabang in Laos, which have been granted UNESCO World Heritage status; this will help them to retain their distinctiveness. Thinking about the concrete jungles that have appeared in so many Asian cities making them look like cities anywhere, one is saddened for future generations who will never know how truly unique their cities were in the past. As an item in the PHT Newsletter read, "Everywhere you go in Asia these days, unique, historic buildings have been razed and then replaced by look-a-likes from our globalized world."
A relatively untouched remnant of Asia's past, Penang is still one of Asia's finest destinations. And while it's an enormous challenge, if George Town achieves UNESCO World Heritage status, hopefully it will serve as a positive example for other Asian cities to preserve their remaining architectural heritage.
Let's hope that the merchants and workers who live in Penang's inner city will be allowed to continue living and working there, as their ancestors have done for the past 200 years.
---
Getting There
The best way to get around is to walk or hire a trishaw – still a common sight on Penang's streets. The drivers all speak some English and are excellent tour guides.
» Ferry from Butterworth to George Town takes 20 minutes (24hrs.,B4).
» Daily train leaves Hualamphong Station at 2:20 pm, arriving about 22 hours later in Butterworth (B1,000 one-way in 2nd-class sleeping berth).
» Thai International flies to Penang daily (B8,000 return).
---
Where To Stay
Eastern and Oriental Hotel, 10 Lebuh Farquhar (604-261-8333, fax 604-261-6333, hotel-info@e-o-hotel.com, www.e-o-hotel.com)
Cheong Fatt Tze Mansion, 14 Lebuh Leith (604-262-0006, fax 604-262-5289, cftm@tm.net.my, www.cheongfatttzemansion.com)
Hotel 1926, 227 Jalan Burma (604-228-1926, fax 604-227-7926)
---
Where To Eat
» Try the hawker food stalls on streets throughout the town.
» Thirty Two (Straits Cuisine) 32 Jalan Sultan Ahmad Shah
» Slippery Senoritas (Tapas Bar & Salsa) The Garage, 2 Penang Road
» 20 Leith Street (Pub, Wine Bar and Japanese Bistro) 11-A Lebuh Leith
» Pintail Kafe< (International) 30 Jalan Penang
» Kashmir (North Indian) 105 Jalan Penang
---
Enhancing Knowledge
» Penang Heritage Trust (26A Stewart Lane, 604-264-2641, www.pht.org.my) has copies of two walking tour brochures on the Penang Heritage Trail.
» Penang Heritage Museum. Most comprehensive and aesthetically pleasing small museum. The exhibits are organized according to the various ethnic communities of Penang.