Published in JUNE 2003 Metro:Magazine, Bangkok, Thailand
Sri Lanka is a place dotted with pristine beaches and sparkling blue seas, but that 's not all it has to offer.
Liza Linklater explores beautiful old buildings and hotels and delves into the island's amazing architectural heritage.
---
"I can't take it any longer. Let's get another driver tomorrow morning." My companion agreed that our hired driver just didn't get it. But then he was a know-it-all type of guy. After all, he was supposed to take us where we wanted to go and where we had booked to stay, and not vice versa.
The first day of our weeklong driving trip around Sri Lanka turned out to be more exasperating than we could ever have imagined. We should have been wary when our driver couldn't find the house in the exclusive Colombo neighbourhood called "Col. 7" (Cinnamon Gardens) where we were staying. He arrived an hour late without his baggage as he thought we were returning to Colombo that same day. After telling him we'd be travelling for a week, we accompanied him home to get his clothes.
His name was Sanjay and he was a handsome, 27-year-old Sinhalese Buddhist. Auspiciously, before we started south down the West Coast, he stopped to offer coins to the Buddha in exchange for protection on our journey. A Buddha medallion also hung from the car mirror just in case.
Sri Lanka is shaped like a teardrop; it's about the same size as Ireland. It's only 433 km from north to south so even though some roads can get crowded it doesn't take long to get anywhere.
With a population of 17 million and one of the highest population densities in Asia, Sri Lanka still doesn't seem crowded. There's a high literacy and life expectancy rate, and since most people can speak English, it's easy to get around.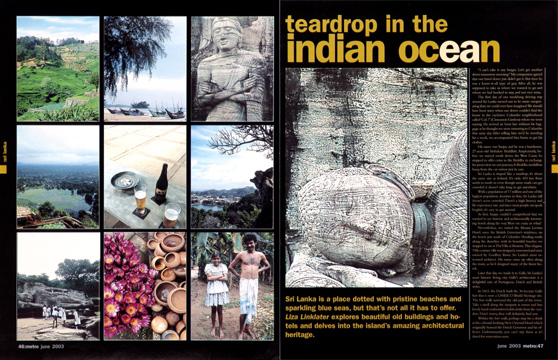 At first, Sanjay couldn't comprehend that we wanted to see historic and architecturally interesting hotels along the way. Were we crazy or what?
Nevertheless, we visited the Mount Lavinia hotel, once the British Governor's residence, on the beach just south of Colombo. Heading south along the shoreline with its beautiful beaches we stopped to eat at The Villa at Bentota. This elegant, 19th-century villa was designed, renovated and once owned by Geoffrey Bawa, Sri Lanka's most esteemed architect. His name came up often along the route, as he'd designed many of the finest hotels.
Later that day, we finally made it to Galle, Sri Lanka's most historic living city. Galle's architecture is a delightful mix of Portuguese, Dutch and British styles.
In 1663, the Dutch built the 36-hectare Galle fort that is now a UNESCO World Heritage site. The fort walls surround the old part of the town. Take a stroll along the ramparts at sunset and buy lovely hand-embroidered tablecloths from the vendors. Don't worry, they will definitely find you.
Within the fort walls, perhaps stop for a drink at the colonial-looking New Oriental Hotel which originally housed the Dutch Governor and his officers. Unfortunately, you can't stay there as it's slated for renovation soon. We noticed some antique shops along the highway between Colombo and Galle. And inside Galle's Fort area near the courthouse, we ventured into Olanda (30 Leyn Baan St.), a wonderful antique shop that also stocks imitation colonial furniture.
The next day Sanjay finally realized that we weren't there to go to the beach, or on a safari. We wanted to see historic buildings, great architecture and ancient Buddhist sites. He began to relax and enjoy himself too. And when I learned he was driving his own car, I knew he would drive carefully.
The villages and palm-lined beaches along the south coast are quieter and less touristy than those along the western stretch closer to Colombo. Travelling along the Sri Lankan shoreline reminded us of Goa in India – perhaps because of the beaches and the Portuguese architectural influence. Some of the most beautiful stretches of beach are near Weligama, 30 kilometres east of Galle. Between Unawatuna and Weligama as the day ends you'll see stilt fisherman fishing while standing or sitting on poles embedded in the sea bottom.
Near Weligama there's another lovely sight you can't miss – an idyllic house set on an island close to the shore. At low tide the island is actually connected to the shore. Known as Taprobane Island, and "Yakinige-duwa or She-Devil's Island", it was owned by a French Count in the 1930s. The novelist Paul Bowles wrote The Spider's House there in the '50s.
Along this stretch, the village of Mirissa is also a lovely quiet place to stay. The train track, which runs parallel to the road all the way from Colombo, abruptly comes to an end at Matara.
We continued along the shore past rice fields and salt flats until Hambantota where we ventured inland and started to climb into the hills. Soon we were driving past green seas of tea and vegetable hothouses. Upon arrival at the 1,889 metre-high town of Nuwara Eliya, we spotted a real estate sign, which read, "Little England at a Local Price", and many of the lovely gabled country houses do remind one of England. Among the British bungalows, cosmos, poinsettia, and hollyhocks are planted under the pine, eucalyptus, cypress and turpentine trees.
Nuwara Eliya (which means "City of Light") was the favourite hill station of the "Britishers", the word Sanjay and other Sri Lankans use to refer to the British. Several of the smaller, old colonial houses have been, or are being, turned into hotels. We visited the Grand Hotel, St. Andrew's Hotel and the Hill Club. The latter is a delightful place, where a non-member can eat, and even stay, by becoming a temporary member after paying a 60-rupee-a-day fee. (There are about 95 rupees to the US$.)
The green, hilly countryside between Nuwara Eliya and Kandy descends gradually by about 1,400 metres. Only 15 km outside Nuwara Eliya is the Labookellie tea factory. Open from 7 a.m. to 7 p.m. daily, it's a convenient factory to visit. As with all of the factories, you can take a tour and have a good cup of tea. This particular plantation covers 540 hectares and employs 6,000 people. For kilometres in all directions, you'll see green carpets of trimmed tea bushes tended by tea pickers of Tamil origin. The tealeaves are processed within hours of harvesting. At the Geragam tea plantation, 10 kilometres west of Kandy, we learned that a full bag of tea on a picker's back weighs 10 kilos and she usually picks 25 kilos a day.
The pace of life in the hill country seems very relaxed and even the busy city of Kandy is a delightful place. Kandyans have an independent spirit; as a matter of fact, the kingdom of Kandy wasn't taken over by Europeans until 300 years after the coastal areas had been. Kandy is still the spiritual and cultural centre for the Sinhalese and one must see the traditional Sinhalese dances performed each evening at 6 at the Kandayan Arts Association Hall.
With a population of 120,000, Kandy is Sri Lanka's second largest city. We stayed in the centre of town at the Queen's Hotel, beside the lake and across from the Temple of the Tooth, which houses Sri Lanka's most sacred Buddhist relic – a tooth of the Buddha.
There has been tight security at the site since part of the temple was heavily damaged in a 1998 bomb blast. In honour of the sacred tooth, every July or August, 50 or more elephants parade around Kandy's streets in elaborate, glittery cloaks. The parade is called the Escala Perahera and is the most spectacular event in the country.
Kandy has hotels, guesthouses, restaurants, antique and craft shops to suit every budget. The old Pub Royale in the Queen's Hotel arcade retains a colonial air and is a nice place to stop for a drink. Stores close early in Kandy and there's not much to do after dark.
While the monks, temples and Buddha images are not as visible as in Thailand, 74 percent of the population is Buddhist. The Theravada school of Buddhism actually developed in Sri Lanka and later spread to other countries like Thailand and Cambodia.
We set off in search of the ancient Buddhist cities north of Kandy. This area is called the Cultural Triangle. If visiting a number of the sites it's advisable to buy a round ticket (US$30.00) per person, because it's much more expensive to pay at each site individually. It's convenient to purchase them at the Cultural Triangle office near the Kandy tourist office before you head north.
On the shaded, tree-canopied road between Kandy and Dambulla, a stop at one of the many spice gardens, is very informative. You can actually see the type of plants that many of the world's spices come from. Our Sanjay was caught speeding at 84 kph (the limit is 60 kph) on this stretch of highway. He paid the fine on the spot. Later, we noticed police with radar guns jumping out from the trees at several locations.
About two hours from Kandy is the town of Dambulla. Visitors climb up to see the five cave temples which house about 150 magnificent Buddha images. According to Sanjay, the present-day town of Dambulla "never sleeps" because it is a major distribution centre for fruits and vegetables. Sanjay had another car incident that day – while trying to avoid a truck we clipped a pedestrian with the driver's side mirror. It actually fell off and broke, but luckily the pedestrian was fine.
Twenty-two km to the northeast, is magnificent Sigiriya, a massive 200-metre-high rock that once had a 5th-century palace fortress on top. Try to climb in the morning or late afternoon, because you'll need at least two hours for the return trip, and longer if the crowds are thick. The climb is definitely worth it as the view from the top is breathtaking. About half way up, you'll notice a spiral stairway. Ascend into the sheltered gallery to see a stunning series of 5th-century fresco paintings of beautiful women – some of the colours are as vivid as if they were painted just yesterday.
We continued on to Polonnaruwa, still only 140 km northeast of Kandy, to visit the 1000-year-old ancient capital. The monuments are in good repair and it's easy to see them all as they cover a compact area.
The most breathtaking monument, called Gal Vihara, is regarded as the most impressive group of Buddhist images in the country. Comprised of four Buddha images all cut from one long slab of granite, two of the statues are quite large – the standing one is seven metres high and the reclining one is 14 metres long. Be sure to observe signs at most Buddhist sites telling visitors not to take photos of themselves with the Buddha statues.
It's a short drive northwest to the ancient capital of Anuradhapura. This is Sri Lanka's most important ancient city; more than 1,000 years old and because of its large size is more difficult to comprehend and to get around. You'll pass enormous dagobas (stupas), many under excavation, and there are also three excellent museums to visit. One site that can't be missed is the Sri Maha Bodhi(sacred bodhi tree). Brought as a sapling from Bodhgaya in India, it is the oldest authenticated tree in the world and has been looked after for more than 2,000 years.
After backtracking to Kandy, we took the direct, busy route back to Colombo. We were constantly weaving in and out past Lanka Ashok Leyland or Tata buses, trucks and motorcycles (always with millimetres to spare), but arrived back in Colombo with time left to explore some shops.
One called Barefoot (704 Galle Rd.) also has a gallery and its Garden 706 Café is great for a relaxing drink or bite; Odel Unlimited (5 Alexandra Place) is an upscale shopping centre set in an old colonial house; and be sure to visit at least one of the Paradise Roadshops. Other stores mentioned by locals were Serendib, Kandayan Antiques, Kalaya, and Hermitage. And if you want to ship home a set of dinnerware, the white Noritake porcelain is actually made in Sri Lanka.
We enjoyed eating at the Gallery Café, a building that was once Geoffrey Bawa's office. There's a small Paradise Road shop there.
One must at least have a drink or snack at the Veranda restaurant, with its globe lamps swaying in the ocean breeze, at the beautiful old Galle Face Hotel (built in 1864), or a meal there at the Sea Spray restaurant. K.C. Kuttan, the 82-year-old usher who has worked there for 60 years, showed us around. This `Grand Ole Lady' is older than Bangkok's Oriental Hotel. Photographs of Mr. Kuttan with his distinguished curled white moustache, white jacket and sarong, have graced the pages of many magazines and newspapers and he said proudly that his photo is even on the Internet.
At sunset on a Sunday night before leaving, we walked along the promenade by the Galle Face Green, past families out flying kites, playing soccer, swimming, eating, riding ponies or just enjoying a stroll by the Arabian Sea.
One hopes that true peace, after 20 years of war, will finally be achieved so that this beautiful country can thrive and its multicultural peoples can live in harmony.
---
How To Get There
» Thai international flies to Colombo on Wednesday, Friday and Saturday (B12,250 Return)
» Air Lanka flies to Colombo on Monday, Thursday and Saturday (B11,000 Return)
Where To Stay
» Galle Face Hotel, 2 Kollupitiya Road, Colombo | e-mail: gfhrsvn@itmn.com
» Queens Hotel, Kandy www.queenshotel.lk | e-mail: queens@kandy.com.lk
» Hill Club, Nuwara Elita www.hillclubsrilanka.net | e-mail: hillclub@eureka.lk
» Hotel Sigiriya, Sigiriya |e-mail: serendib@serendib.lanka.net
Where To Eat
» The Gallery Cafe, 2 Alfred House Road, Colombo 3
» Garden 706 Cafe at Barefoot, 704 Galle Road, Col. 3
» Cricket Club Cafe, 34 Queens Road, Col. 3
» The Pub (Located on the second floor) Dalada Vidiya st., West of the Bank of Ceylon in Kandy. (Good Italian Food)